Ally – Improve content accessibility
A Guide for Faculty
Blackboard Ally was launched on Monday, October 23, 2017. Ally is a tool that runs within Blackboard and gives an indication to faculty members about the accessibility level of content loaded into Blackboard (ex: PDF Documents, PPT Documents, Word Documents, etc.)
Faculty will see the file accessibility icons displayed next to files in course shells. These icons will indicate the accessibility level of the content similar to the following.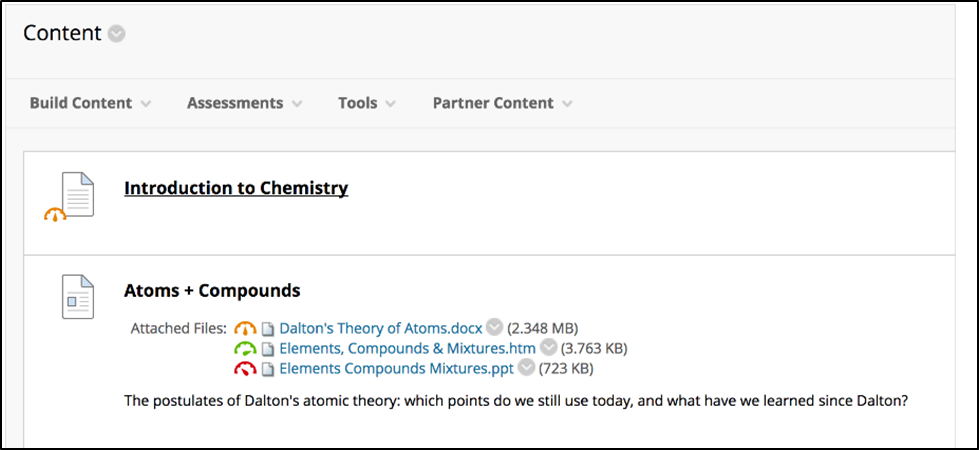 There are three colors of gauge icons that measure your file's accessibility: red icon - not accessible, orange icon - somewhat accessible, green icon – accessible. When the icon is clicked, an explanation behind the rating is displayed along with ways to improve the rating for each document in the course.
Ally is always running in the background and will assess new file accessibility when placed in course shells and display the accessibility score icon within a few minutes of being added.
How to address file accessibility issues
Identify sources documents.
PDF files are usually created from source Word or PowerPoint files and are the files that must be edited to remove/modify content that do not follow accessibility standards.
Use the Accessibility Checker in Microsoft Office applications.
Depending on the version of Microsoft Office, the Accessibility Check is usually available under File>Check Document.
3. Become familiar with accessibility requirements before you begin creating file content.
Learn about accessibility tools within Microsoft Office by hitting F1 and searching on Accessibility.