You will need to create a Zoom account and install the Zoom Instant Messenger in order to be able to add students, instructors, support services, and other contacts at Athens State University to the instant messaging tool. Once you installed the Zoom Instant Messenger tool, manage your contact list by completing the following steps:
Open the Zoom Instant Messenger tool and login. Once you have logged in, the tool should appear on the screen.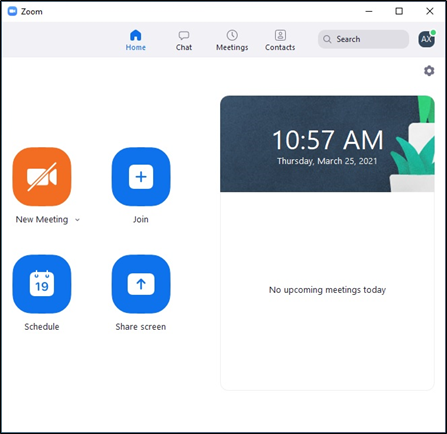 To add or locate a contact, click the "Contacts" tab.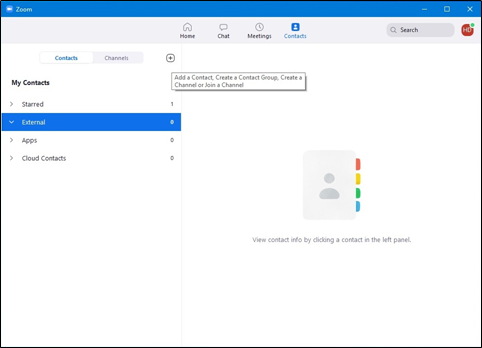 You will see multiple groups the first time you log in:
Starred: You can add a current contact to your Starred contacts by right clicking on their name and select "Add to Favorites"
External Contacts: These are contacts that you have manually added by either sending them a notice to be added or if they have sent you a notice to be added.
Apps: Applications added from the Zoom marketplace.
Cloud Contacts: Contacts added from another cloud-based address book such as your Google contacts.

To add a contact, you will need to click plus sign at the top beside the Channels tab and select Invite a Zoom Contact.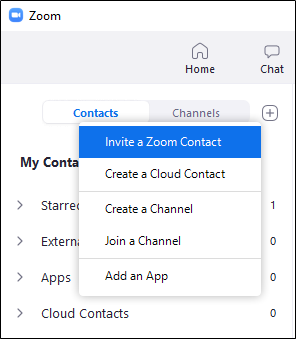 When prompted, enter the email address of the individual you wish to add and click "Invite".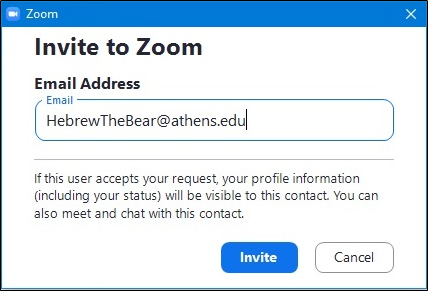 A notice will be sent to user the next time they launch Zoom Instant Messenger notifying them that you wish to add them.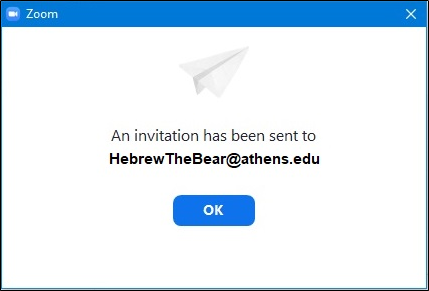 The invited contact will appear as Pending in your contacts list.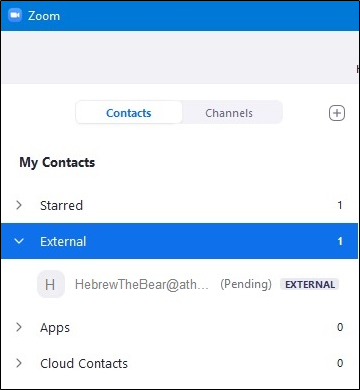 Their Zoom application will alert them about the contact request. This is what you will see if someone sends you an invitation.

Clicking on the request will allow the recipient to accept the contact.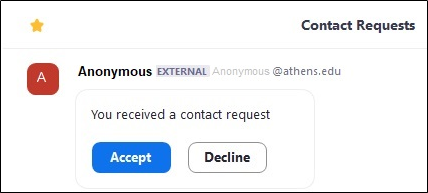 After selecting Accept, Zoom will inform the recipient that their status will be visible to the contact.

Once they accept, you will receive a notice and the contact will appear in the External Contacts group without the Pending note.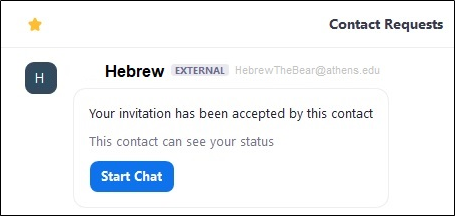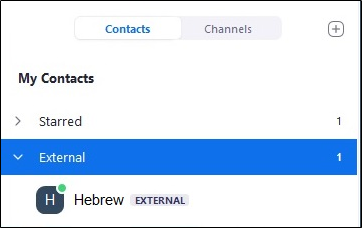 You may now click on that contact to initiate an instant message text chat or video call meeting.